5 Pros and Cons about High Volume Copiers
High-volume copiers are an essential tool for any office. They can help you get more done in less time, which saves money and time. That being said, high volume copiers have their drawbacks too. To learn about the pros and cons of high-volume copiers, read on.
Pros Of High-Volume Copier
    Speed is one of the benefits that come along with high-volume copiers. These machines are designed for high-volume printing, scanning, and copying. With a large paper capacity, you will be able to process documents quickly.  If you are pressed for time, high-volume copiers can provide the solution.
    Flexibility is one of the pros of owning a high-volume copier. Flexibility is also advantageous for businesses that need multiple users on a single machine at any time because it allows more than just one user to have access, and doesn't require additional machines or employees.
Productivity And Efficiency
    Productivity can be a major benefit to using high-volume copiers. A lot of the time, companies will only use their printer for one or two tasks at a given time. However, when you have a machine that can handle multiple jobs simultaneously and process them quickly it is going to take away from your costs if anything else. In addition to productivity, these types of machines also provide efficiency, which is when a company can save time and money by operating their machine more efficiently. An employee who uses the high volume copier might not have to sort through different kinds of paper before they print something out saving them from wasted time. Efficiency may include using less power, making fewer mistakes in your documents, or spending less time on tasks that could be automated allowing for employees to complete other necessary tasks at hand.
    Copiers that can handle high volumes of paper without jamming and are easy to use make the job easier for users. A copier with a user-friendly design is also helpful when training new employees. Copying machines with an access control panel allow anyone in the office access to copying, whereas other models may require more knowledge or experience with technology.
    Since high-volume copiers can make up to two copies per minute, they are a great choice for offices. The extra speed and productivity mean that more work will get done in less time. Moreover, the cost is balanced out because it reduces how much paper is used since there's no need to replace double-sided originals with two different sheets of paper. Another thing worth mentioning is that this type of printer also has an extremely low failure rate compared to other machines on the market.
Cons Of High-Volume Copiers
    Security is a huge issue with companies. Copiers are oftentimes seen as an easy target to steal sensitive information, even if the copier itself has no storage device inside it. This makes finding security features for your high-volume copy machine crucial in keeping all of that data safe and secure throughout its life span.
Copiers are bulky, and they take up a lot of space. The copier itself takes up quite a bit more floor space than the standard printer does for example. Typically high-volume copiers will be big enough that you need at least an entire wall or corner dedicated to it to get good usage out of it.
    Noises are one problem with high-volume copiers. Be sure that you have an understanding of exactly how loud it is before purchasing a machine to ensure that there are no disturbances in your workplace or at home when using this equipment. If the noise does not bother you, then this might be something you want to take into consideration during purchase time.
    High-volume copiers can be a huge energy drain if they are left on. They use an immense amount of power, even when not in use. It is recommended that you turn them off whenever possible unless the machine has a specific need for it to remain running at all times. Using less electricity will save money on bills as well as help reduce environmental impact by lowering carbon emissions. In addition to the cost savings associated with reducing consumption, high volume copiers often come equipped with software designed specifically for monitoring usage levels and estimated costs per copy both while online and offline so users know just how much is being used.
    If you're looking for a high-volume copier, there are many pros and cons to consider. In the end, it all comes down to what you need most from its equipment. Give us a call today so we can answer any questions about how these machines might fit into your office.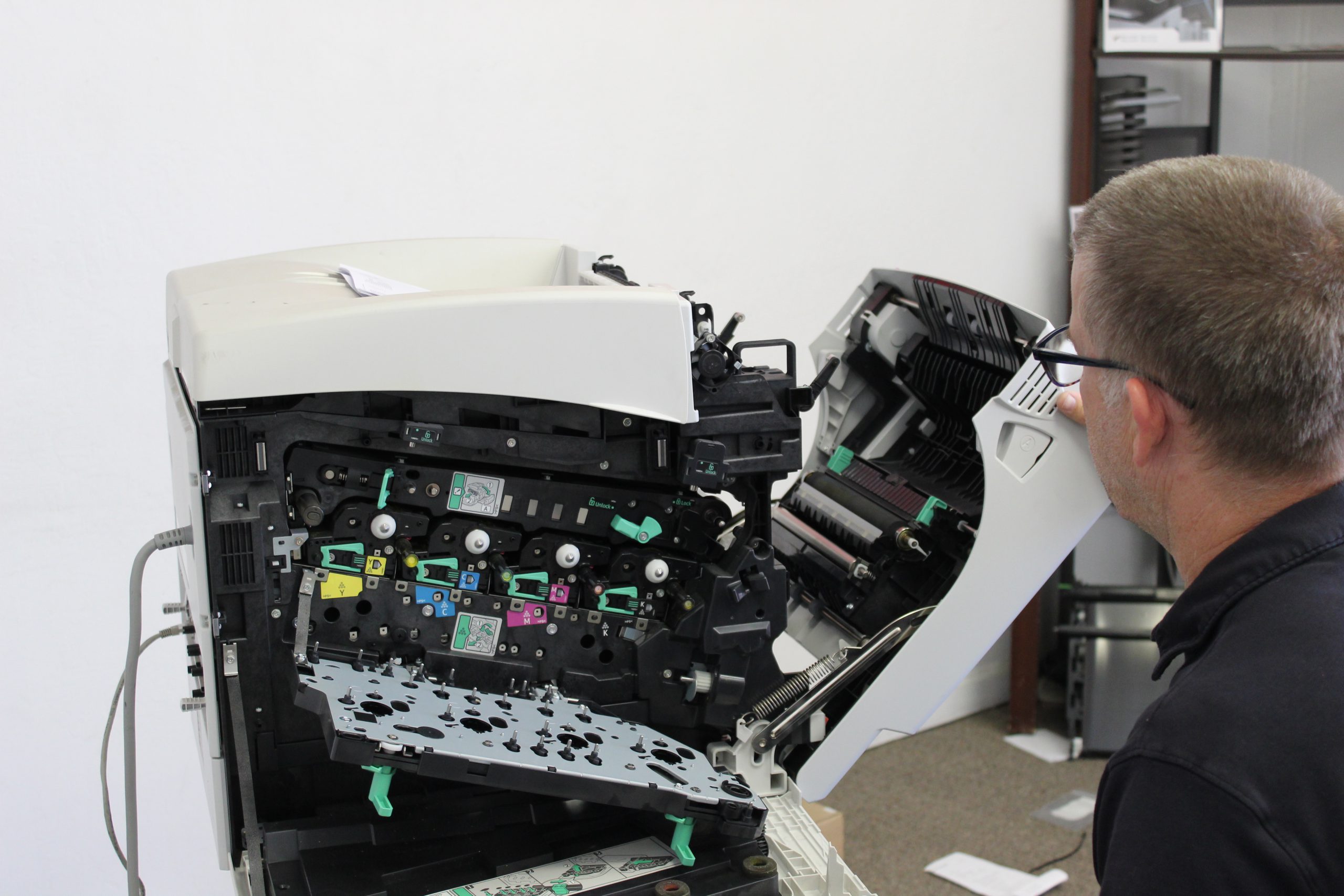 5. What's my price range?
    This is not the time to skimp on the budget. Cheap copiers may seem like a good idea at first, but they're likely to be unreliable and provide low-quality prints. If you need your copier for more than one office location or department within your company, there's even less reason to get it cheap. Know what you can afford before shopping around and don't make any compromises when it comes to the price unless money isn't an issue.
    If you're considering purchasing a high-volume copier, ask yourself these five questions before making your decision. It will help ensure that the machine you invest in is capable of meeting your needs and within your budget. Once you know what to look for, give us a call today. We have experts who can answer any question about copiers or printers so don't hesitate to contact them for more information.
Are You Looking for a Photocopier Near Concord, California?
Office Machine Specialists has been servicing and selling office equipment since 1995. A family-run business that has dedicated our efforts to providing the best equipment options and after-sales service to our clients. Our goal is to ask the right questions and guide our customers to make smart decisions about new machine leases and purchases.  We were servicing copiers long before the internet was a viable resource, and have transitioned to the digital workflow environment of color printing, scanning, account control, and fleet management. With over 20 years in the industry, we have extensive experience with many brands and consider OMS to be a valuable resource to any organization. Contact us for all of your copiers needs here!