The 5 Key Benefits Of Color Copiers For Your Business
Color copiers are a great way to save money and time when it comes to printing. Color copiers can save a lot for your print costs. A color copy machine is also much faster than an inkjet printer, so they're perfect for big jobs that would take too long with other methods. This article will discuss the 5 key benefits of using a color copier in your business.
How Do Color Copiers Benefit Your Business?
Think about all of the times you've needed to make copies of something. Whether it's a document for work or a flyer for an event, there are plenty of occasions where making copies is necessary. And if you're like most business owners, you probably have a color copier on hand to make those copies in color. But what many people don't realize is just how beneficial owning a color copier can be for their business. There are many benefits to owning a color copier for your business.
Here are the five key benefits:
1. Increased Productivity
Employees can handle more jobs at once with a color copier. This allows for increased productivity and efficiency, especially when it comes to high-volume jobs like report printing or flyers that feature multiple pictures of products. Instead of having employees work on one job at a time, they can complete several different tasks simultaneously if the business has an inkjet printer machine in their office. This speeds up turnaround times so your company can move on to other projects faster than ever before. Additionally, being productive means you'll have more free time after hours which gives you more opportunities to spend time with family members or relax by watching TV shows online during the weekends. That's something everyone should be striving towards.
2. Better Branding
One of the most important benefits that color copy machines can provide for your business is how it affects your branding. If you're in a competitive industry, having uniform materials to hand out at meetings and events will give potential customers an outstanding first impression when they see how professional everything looks especially because all items are going to be printed on high-quality printers. This not only speaks well about what kind of company you run but also makes people more willing to do business with you by showing them that you go above and beyond to make sure everything meets their expectations. It's one thing if everyone else uses black & white printer copies while yours come from a high-end inkjet machine, quite another if every other agent or representative has poor quality, faded flyers while you're handing out crisp, vibrant ones.
3. Take control.
With a color copier in your office, you can take control of all of your printing needs. This means that you never have to worry about running out of copies or not having the right document on hand when you need it. You also won't have to wait long for prints, with a color copier, they will be ready almost instantly. Plus, with all of the different settings and options available on most color copiers, you can create exactly what you need each time.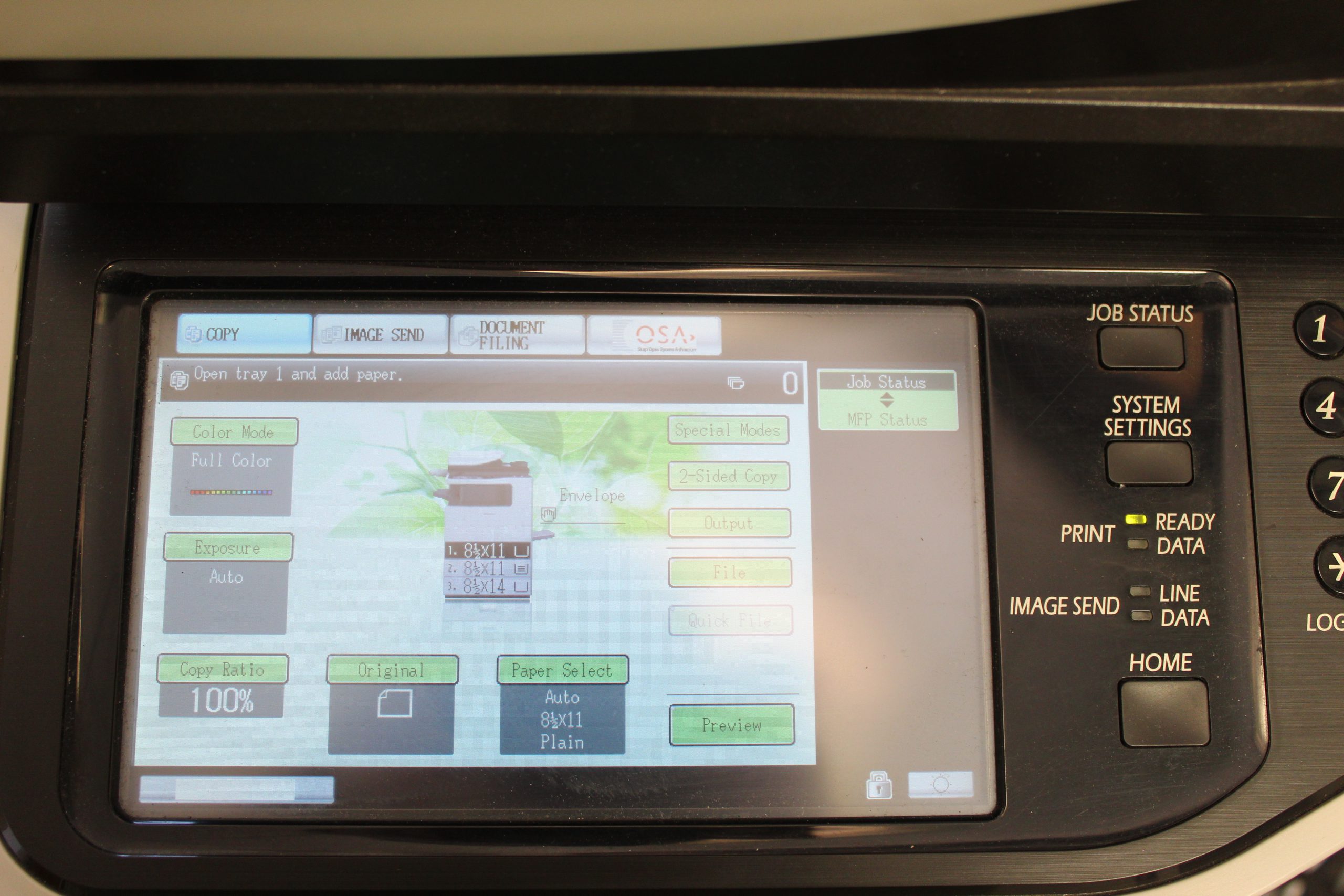 4. Save Money.
When you own a color copier, it can save your organization money in the long run because of all the benefits that they provide to an organization. For one thing, not only do color copies cost more than black and white copies on average but if you have multiple printers throughout your office, having a color printer for printing documents will help cut costs by allowing everyone who needs them to print something without waiting for someone else to finish using the machine or buying another inkjet printer just so they could make their document look professional when needed.
5. Improve the clarity of your communication.
If you're sending a proposal to a potential client, or if you need to create an advertisement for your business, using a color copier can improve the clarity of your communication. Colors add emphasis and visual appeal that can help your message stand out from the competition. When it comes to making a good impression with clients, nothing beats having everything look professional, from your company letterhead down to the fine details on each page. A color copier can give your print jobs that extra bit of polish, helping you put your best foot forward no matter what the situation.
We hope this article has helped you understand the benefits of investing in a color copier for your business. If you want to learn more or get started today, call us. Our team is ready and waiting to answer any questions you might have about our products and services.
Are You Looking for a Color Copier You Can Rely On?       
Office Machine Specialists has been servicing and selling color copiers since 1995. A family run business that has dedicated our efforts to providing the best equipment options and after-sales service to our clients. Our goal is to ask the right questions and guide our customers to make smart decisions about new machine leases and purchases.  We were servicing color copiers long before the internet was a viable resource, and have transitioned to the digital workflow environment of color printing, scanning, account control, and fleet management. With over 20 years in the color copier industry, we have extensive experience with many brands and consider OMS to be a valuable resource to any organization. Contact us for all of your copier needs here!