The Top 5 High Volume Copiers on the Market Today
Copiers are a necessary part of any business. They allow you to make copies quickly and cheaply, which is great for projects that require many copies. But when it comes time to buy one, how do you decide which one is best? We will go over the top five high-volume copier machines on the market today so you can find the best fit for your needs.
Overview of High Volume Copiers
High-volume copiers are machines that produce a large number of prints at one time. They have many uses, but they tend to be used in places where there is a high demand for printed materials such as businesses and schools. The internet has made it easier than ever before to print things, so high volume copiers are not as common as they once were. However, a lot of people still rely on them for their printing needs because the cost per copy is usually much lower than other types of printers and because they can handle larger jobs without breaking down or jamming up.
Top 5 High Volume Copiers 
High-volume copiers are some of the best office machines out there. They can handle a lot of printing jobs, which is why companies use them. As you look for one to buy or lease, think about what your needs are and choose accordingly. A high-volume printer will suit you well if it has good speed, print quality, and reliability among other important features. Let's take a look at the top 5 great copiers on the market today:
1. MX-M363U
The MX-M363U has been designed with simplicity in mind, it features an LCD touch screen display that makes every setting and feature easy to find. You can even operate this machine remotely using the network connection making it modern and accessed by all who need the use for business or home office workers alike. Not only does its straightforwardness make things simple but also highly productive, packed full of useful additions like smart app printing so you don't have any excuse when faced with paper cutbacks.
Specifications:
The MX-M363U can print at a speed of 36 prints per minute and has an impressive first copy time. The feeder handles 100 pieces of paper at once while the overall capacity is 1100 sheets.
2. MX-5110N
The MX-5110N is a multifunctional and advanced photocopier that allows you to preview your image in real-time, ensuring documents are always produced as desired. The 10- inch touch screen display has a tilted view allowing for easy navigation while its user customization feature means icons can be put on how they want them.
Specifications:
The MX-5110N is the ultimate printing machine, offering copies up to 51 prints per minute (color printing) and first copy times between 4 – 8 seconds. The warm-up time for this device is under 34 seconds meaning you can turn it on with large numbers in less than a minute.
3. MX-M623U
This multifunction printer has everything you could need when it comes to a document system. With features like print, copy, or fax plus storage of documents this machine is easy for any user-and its helpful tools make things even easier. This machine can be used in both home offices as well as businesses with no problem because not only does the MX 623U do what we want but also takes into account all those pesky extras that are often overlooked by other makers such as security and data protection options which many people may take advantage off too.
Specifications:
The MX-M623U promises the perfect balance of speed and quality, with speeds up to 62ppm for quick copy jobs or long printing runs. It has an impressive 4-second standard paper capacity that can hold 2 x 500 sheet stacks at once, not bad considering its sleek design.
4. MX-M1054
The MX-M1054 has a reputation for being powerful, reliable, and quiet. The screen interface makes using an easy task that offers clear print results at 1 200 x 1200 dpi resolution which is always detailed without pixelation or blurriness when needed most.
Specifications:
With the incredible speed of 105 pages per minute, this multifunction copier manages to operate very quietly making it perfect for any office environment with high volume users such as 13,500 sheets maximum paper capacity.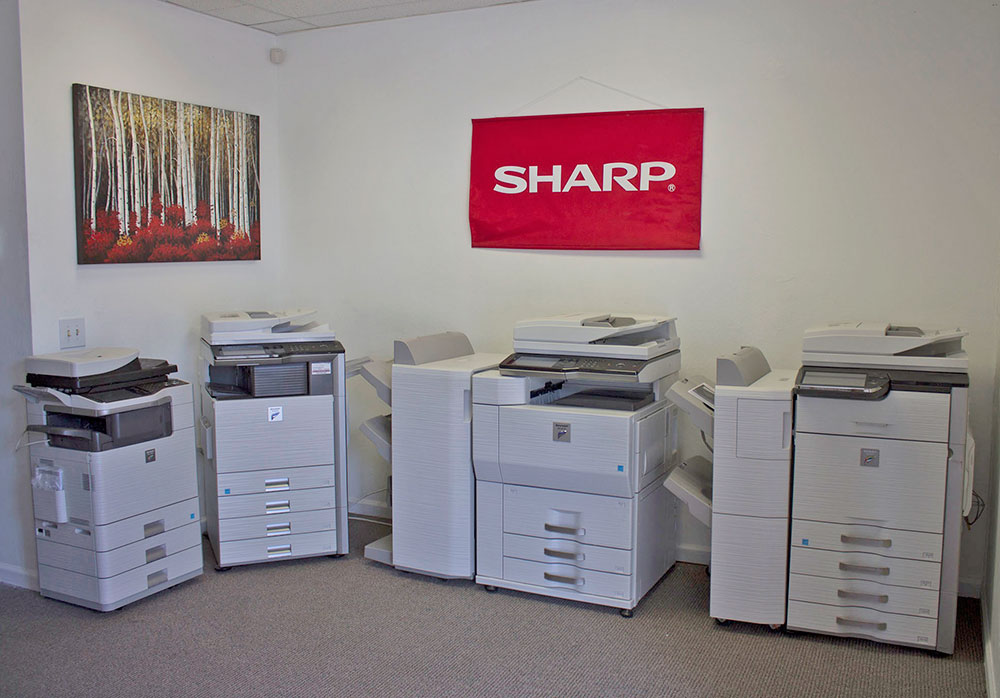 5.  MX-M905
The MX-M905 offers a wide range of feed and finishing options, supporting high-quality finishes for many types of documents printed on demand. The easy-to-operate via 10 in 1″ customizable touchscreen display makes the machine perfect with multiple users who have different needs in an organization looking to cut costs while retaining convenience as well.
Specification:
The MX-M905 is a 90ppm high-performance, printing system perfect for large businesses. This department MFP was designed to offer maximum productivity with minimal operator skills required by any user that needs it–and can be accessed directly from anywhere thanks to its accessible design.
We've covered the top 5 high-volume copiers on the market today in this post. If you are looking for a new machine, read through our reviews and contact us to find out which of these machines is best suited for your needs.
Are You Looking for a Photocopier Near Concord, California?
Office Machine Specialists has been servicing and selling office equipment since 1995. A family-run business that has dedicated our efforts to providing the best equipment options and after-sales service to our clients. Our goal is to ask the right questions and guide our customers to make smart decisions about new machine leases and purchases.  We were servicing copiers long before the internet was a viable resource, and have transitioned to the digital workflow environment of color printing, scanning, account control, and fleet management. With over 20 years in the industry, we have extensive experience with many brands and consider OMS to be a valuable resource to any organization. Contact us for all of your copiers needs here!