Which Is Better For A Business, Ricoh Or Konica Minolta Copiers?
When it comes to choosing a copier for your business, you might be wondering which is better. Ricoh or Konica Minolta? We've compiled the differences between these two office machines so that you can make an informed decision when purchasing one. 
Ricoh has been around since 1950 and specializes in industrial equipment, IT infrastructure, and more. Konica Minolta is an international company with headquarters based in Japan where they design and manufacture imaging products including cameras, printers, photocopiers, and more. They have over 90 years of experience specifically designing products for businesses. Both companies are world leaders in their field so whether you're looking for a cheaper option or something heavy-duty we recommend taking time to research before making a final decision.
Konica Copiers
For growing businesses, a Konica Minolta bizhub offers the features you need without having to pay for unnecessary functionality. Their compact MFPs are ideal for home and small office use so that your company can grow with ease!
Talking about streamlining productivity and boosting efficiency? You can bet your Konica Minolta bizhub will perform beautifully, professionally quality printing plus copying and scanning.
Konica Minolta uses a proprietary piece of equipment in its machines called imaging units. If you've ever dealt with expensive parts before, think about Apple for example – Konietas can be really costly to fix or replace when they break down!
In fact, each one costs $500 dollars so if any aren't working properly there's no choice but to buy another new unit because without all four functioning this machine just won't work at all.
With the cost of maintenance on a Konica machine being offset by services contracts, which cover parts and service for 3-5 years. For an affordable monthly price; you can ensure your imaging unit stays up with no worries about when it has to be replaced!
Ricoh Copiers
The 50-year history of Ricoh as a commercial printer and services provider is one reason why they're industry leaders. The Tokyo-based company was founded in 1950, but their U.S.-based headquarters have been since 1990 when it produced the first digital color laser printer at 15 pages per minute! Today's large businesses rely on this firm for all sorts of needs–from quick copy or print jobs to long runs with high-quality finishes like HQL 3 newspapers every day (HQ stands for "Huge").
Ricoh is the brand name you need to trust for all things printing, duplicating, and scanning. With models that range in speed from black-and-white prints to high-quality color print jobs or even photo paper copies on demand — Ricoh has something perfect for every business!
In Conclusion
Konica Minolta uses the bizhub ARCHITECTURE, while Ricoh has its own Smart Developer Program. Each interface features different workflows and processes for scanning documents that you can fax or copy and paste into your computer as well!
In the grand scheme of things, Konica Minolta may not be the best choice because of its more expensive upfront cost. However, it does have some pros such as higher quality and better reliability compared to other brands like Ricoh or even competitors models made by their own company themselves for short periods when they were still around!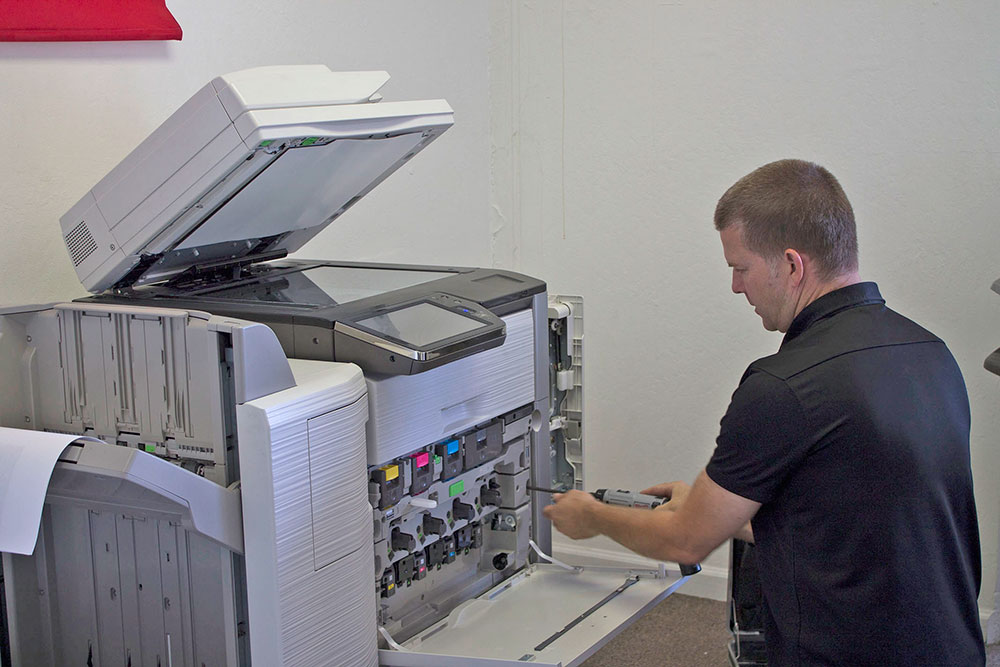 Are You Looking for the Best Copier for Your Business?       
Copying documents is an essential part of most businesses, but it's not always easy to find the right machine. Luckily for you, we've got your back! We can recommend a maintenance contract that will cover all supplies and even repairs if anything breaks down on-site (or before a problem even manifests itself). Staying up-to date with our latest equipment ensures nothing slows us down – let our experts take care of what needs taking care of now! Office Machine Specialists has been servicing and selling office equipment since 1995. Our goal is to ask the right questions and guide our customers to make smart decisions about new machine leases and purchases.  We were servicing copiers long before the internet was a viable resource, and have transitioned to the digital workflow environment of color printing, scanning, account control, and fleet management. With over 20 years in the industry, we have extensive experience with many brands and consider OMS to be a valuable resource to any organization. Contact us for all of your copier needs here!