The Beginner's Guide to Buying a Used Copier for Your Office
Are you in the market for a used copier for your office? If so, you may be feeling overwhelmed by all of the options available to you. This guide is designed to help beginners make the right decision when buying a used copier. We'll outline what to look for when buying a used copier, as well as some tips on how to get the best deal. Let's get started!
Why Is It Important To Do Your Research Before Buying A Used Copier?
It's important to do your homework before buying a used copier because you want to make sure you'll go to the right place, know what to look for, be able to manage your expectations, and get the best price. You also want a used copier to be something that you will use and not break down on you immediately after buying it.
Where Do I Start Looking For Used Copiers To Buy?
As soon as you have decided that buying a used copier is the right option for your business, where do you start looking? You can look in so many different places for copiers. Here are some ideas to get the ball rolling:
Ask Around!
If any of your friends or associates work at companies that deal with copiers, see if they know of any copiers that are for sale. They may even be able to help you find the right machine for your needs.
Tip: Be sure not to ask your direct competitors about used machines. You would hate to learn what kind of amazing bargains they score on their equipment and then lose out because you wasted too much time searching elsewhere!
Look For Copiers In The Classified Sections Of Newspapers And Magazines
You never know what type of listings may pop up when you read through some used office equipment ads. Even if the price seems too good to be true, check out anything that looks promising just to be sure.
Tip: A quick Google search for "used office equipment" will bring up a variety of sites that might help you to find spending good quality second hand.
Make direct contact with the seller and try to talk face-to-face if possible. If you can't do this, don't worry as this doesn't usually affect your decision whether or not to buy.
However, it's important to take all the measures available in order to be sure that what you're buying is actually worth the price you're paying for it. Use Google Maps™ Street View and other resources available online for checking out used copiers before making an offer on them.
If the condition of the unit looks promising, ask for proof that there isn't any outstanding finance attached to it. Once this has been cleared up and taken care of, you can then move on to the next step.
Potential buyers will want to know who sold you the copier. It's okay if it was bought directly from a dealer but make sure nothing fishy happened with regards to the origin of your machine. Ask for proof of purchase or other records that show proper ownership and legal transfer of title.
Once you're confident that everything is in order, contact your bank or credit union for financing options before making any arrangements to buy used copiers online. With this used copier buying guide, buying office equipment has never been easier!
Why Is It Important To Know Your Budget When Buying A Used Copier?
A used copier can be a very attractive investment. However, it's important to know your budget before buying one because some copiers require a lot of money just for the maintenance and repairs. If you have a certain amount in mind then it will be easy for you to choose which machine is right for your office size and also within your budget range.
Once you know what kind of price you are willing to pay, the next step is finding sellers online. You could find some professional dealers who would sell directly or there are buyers who have been doing this business for several years so they might have more knowledge about buying used copiers than anybody else out there.
When buying any kind of machinery such as a used copier, it is important to find out the maintenance and repair cost. This will help you determine what kind of budget you would need in order to keep your machine in perfect condition.
The next step is researching which type of equipment suits your needs and is within your price range. When buying a used copier, it's very important for you to outline some features you want so that you can compare each brand and model based on similar standards. Some buyers might consider only the initial purchase price while there are others who focus more on long-term costs like maintenance and repair.
What Are Some Of The Things You Need To Consider When Buying Used Copiers?
With a large number of copiers available, it can be a bit overwhelming to purchase. However, buying a used copier for your office is something you should consider if you plan on owning one for many years. Prior to making such a decision, there are certain things you need to keep in mind:
It's Critical To Consider The Print Volume
The volume of your print output plays a large role in choosing the right type and size of copier for your office. For instance, if you have low printing needs, then buying a high-volume used copier is considered unnecessary. Assuming that you will be satisfied with the outcome, even though it means spending more money than you should on an expensive machine just because someone told you to.
The print volume is very important when looking to buy used copiers as they usually come in different sizes and features. Purchasing something too large or too small may lead to costlier maintenance fees or a possible decrease in quality as well as speed due to smaller components such as drums and toner cartridges designed for particular machines as opposed to universal ones which can be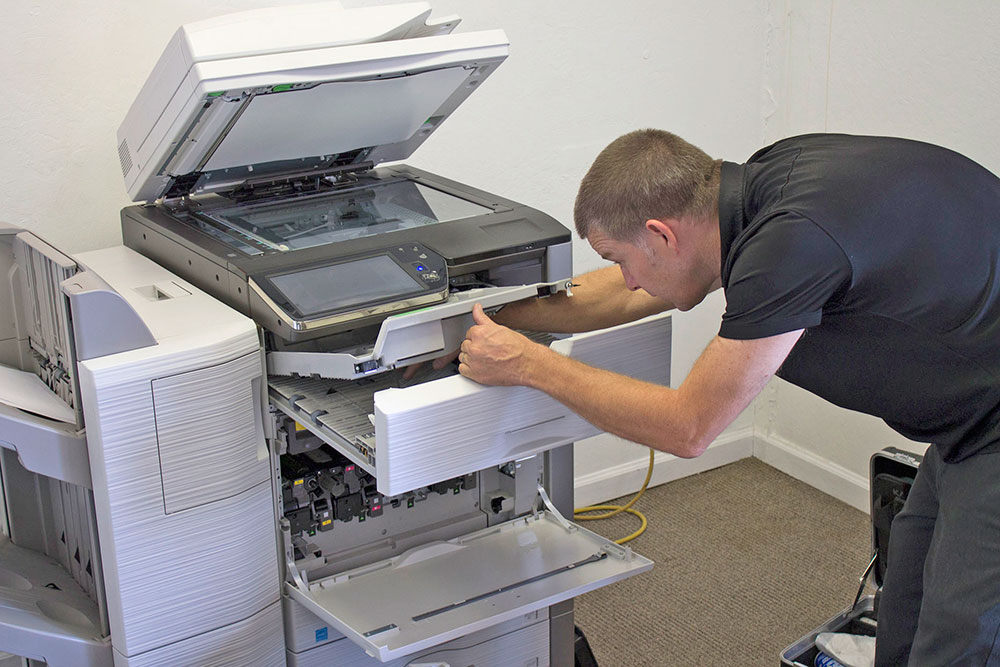 Make Sure That The Used Copier Has Not Been Recalled For Safety Issues
A used copier machine with a history of recalls is not something you may want to buy. It may even be dangerous. You must make sure that you check if the equipment has been recalled before buying it.
Look For A Certification Or A Factory Warranty
Always pay attention to the type of certificate and warranty being offered for a second-hand copier. A factory warranty can give you some sort of comfort when buying used machines from dealers instead of private sellers who offer no guarantee or service after selling their products.
Know Where To Get Maintenance
Copiers are not like cars. They don't keep running unless you take care of them every now and then. If you buy a used copier without maintenance, it can lead to more problems down the road. This is why it is important to know where to get maintenance before buying a used copier for your office.
You must also keep in mind that since it is a piece of used equipment, some parts and accessories might be hard to find as time goes by so it is important to check who can service your copier or where to get parts in the long run.
Now that you know what to look for and how to buy a used copier, it's time to take the next step. Contact us today! We can help you find just the right machine for your office situation. You may be surprised at how affordable some of these machines are when bought second hand, so don't rule them out without looking into them first. Plus, our team is here to answer any questions or concerns about buying used copiers in general-we want this process to go as smoothly as possible for you!
Are You Looking for a User Copier Near Concord, California?       
Office Machine Specialists has been servicing and selling office equipment since 1995. A family run business that has dedicated our efforts to providing the best equipment options and after-sales service to our clients. Our goal is to ask the right questions and guide our customers to make smart decisions about new machine leases and purchases.  We were servicing copiers long before the internet was a viable resource, and have transitioned to the digital workflow environment of color printing, scanning, account control and fleet management. With over 20 years in the industry we have extensive experience with many brands and consider OMS to be a valuable resource to any organization. Contact us for all of your copier needs here!