Office Machine Services and Sales Solutions
Which Laser Printers Are Good For A Small Business?
Do you have a small business and need to decide on the best printer for your needs? There are many different types of printers out there, but which one is going to be good for your company's needs? We'll take a look at some common laser printers that work well in most office settings. Laser printers print quickly, so they're great for when you need to make copies or prints of documents right away. They also use less toner than inkjet cartridges, so they're more cost-effective if you plan on printing often.
Laser printers are viewed as better for many small businesses with a lot of printing demands because they generate more professional-looking documents and have lower per-page expenses. Laser printers cost much, much more than inkjet versions but may be justified in the long run due to reduced costs per print.
If you're looking for the best laser printer, look no further. There are a few features and characteristics to consider when buying one of these machines such as copy, scan, fax capabilities; paper tray capacity; automated document feed (ADF) capabilities; print speed or even if it's combined with another device like a copier which is helpful in compact office spaces. The following are some great choices in today's market:
Canon Color imageCLASS MF743Cdw
The Canon Color imageCLASS MF743Cdw is an excellent printer for small and medium-sized companies with a wide range of printing requirements. It features the following:
two-sided (duplex) printing

duplex automated document copying

50-page automatic document feeder

special paper printing via a 50 sheet bypass tray that supplements the 250 sheets primary paper cassette
Lexmark MC2535ADWE
The Lexmark MC2535ADWE all-in-one color laser printer can print, copy, scan, and fax. It has various paper handling capabilities that satisfy both corporate and personal users:
Its 250-page primary tray expands with 550 or 650 pages trays to store up to 1,450 sheets of paper

It has a 50 sheet reverse duplex ADF scanner capable of scanning at speeds up to 50 pages per minute

Its 4.3-inch touchscreen comes with a front USB direct printing connection option.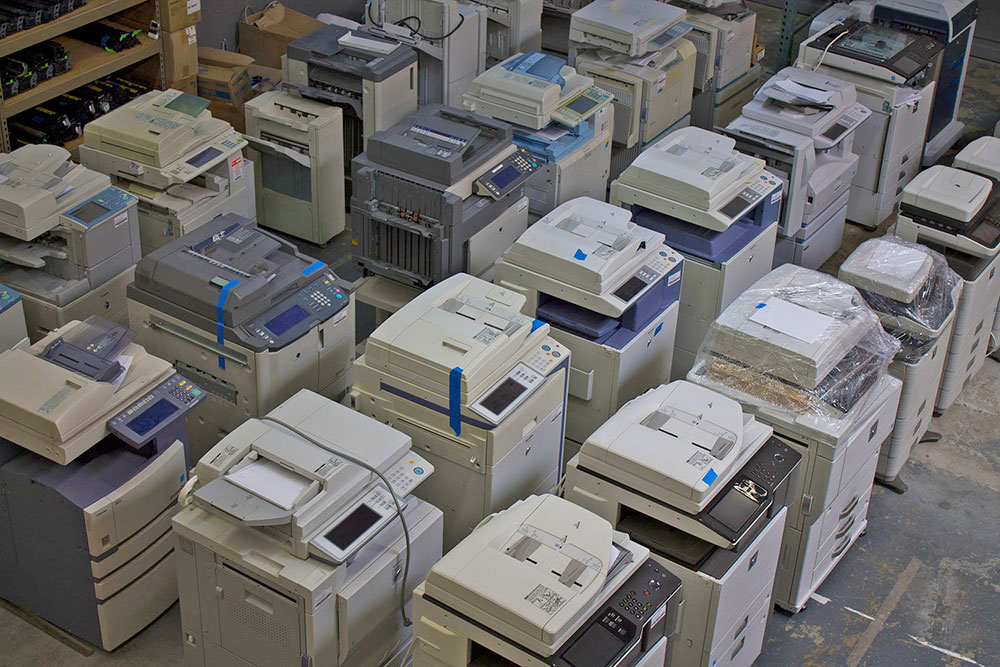 Brother HL-L6200DW
This printer carries a large capacity for the speed of printing it provides. The Brother HL-L6200DW claims to print up to 48 pages per minute which means that you won't have any delays in your work or projects due to long waiting periods. If this is not enough paper, add more trays bringing its total paper tray size up to 1,610 sheets (not including 50 sheets multipurpose tray).
HP Color LaserJet Enterprise M553x
This printer has three trays that can store up to 1,200 sheets. It also extends into five more trays that handle 2,300 pages each for a total of 7500 sheets at one time! Its toner cartridge is capable of generating 6k monochrome and 4K color prints so it's ideal for high volume printing projects.
This product's automated media detection feature means you don't have to tell the device what kind of paper you're using. The cost per page in black & white only comes out at $1.7 cents but if your project needs some color then expect around 10-11cents per sheet depending on how many colors are used – which isn't bad considering most printers come in much higher than this average.
In conclusion, there are a lot of different laser printers to choose from. The best way to find the one that is right for you is by considering what your needs are and then checking out some reviews on popular models. If you're still not sure which model would be perfect, give us a call! We'll help you get started with whichever printer suits your purposes best.
Are You Looking for a Laser Printer for Your Business Near Concord, California?  
Office Machine Specialists has been servicing and selling office equipment since 1995. A family-run business that is dedicated to providing the best equipment options, installation services, after-sales service for all of your machine needs with a focus on giving you peace of mind when it comes to leasing or purchasing new machines. We have over 20 years in this industry which means we are one – if not the most – well-informed company there is out there about copiers and anything else relating to an office environment like color printing, scanning, the digital workflow environment of color printing, scanning, account control, and fleet management. Contact us for all of your copier needs here!