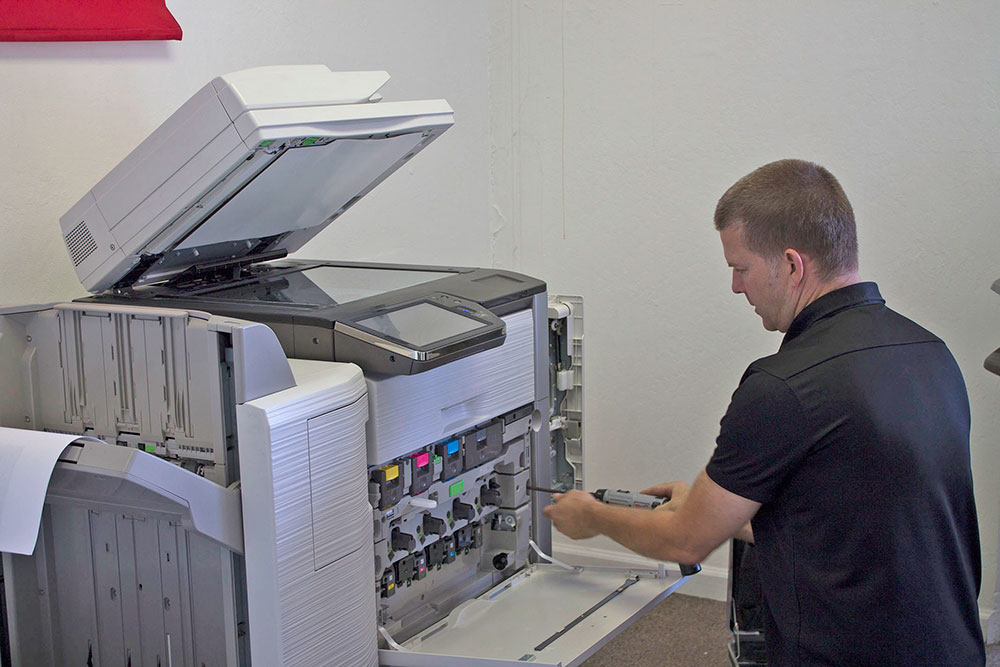 Are you looking to rent a copy machine? Whether you're starting up your own business and need the latest equipment or just scrolling through options to upgrade your current office setup, finding the suitable copy machine for your needs doesn't have to be overwhelming. With our guide of 5 key questions to ask yourself before renting a copier, you'll find the exact match! From selecting features and accessories, deciding on the cost and length of the rental agreement, researching brand history, or weighing print speed against capacity–we've got it all covered. So don't wait any longer – let's dive into what you should look for in order to make an informed decision about renting a copier today!
Why Does Renting Make Sense To Me Than Buying?
Renting a copier can be a great way to save money and time, as well as improve the quality of work output when compared to purchasing a piece of office equipment outright. By listing down the reasons why renting a copier makes sense for your specific needs, you can make sure that you are taking the most cost-effective route while ensuring that you are getting the right type of machine for your business.
For instance, if you only need periodic use of a copier, then there is no reason to purchase one, as it would be more expensive than just renting it when you need it. This way, you wouldn't have to worry about buying additional supplies or maintenance costs associated with owning one. Additionally, if your company requires different types of copying jobs done regularly such as two-sided copies or color copies, then it may make sense to rent instead of buy because buying all those machines and supplies could end up being costly.
Overall, carefully considering all the factors involved before deciding on renting or buying a copier – the upfront cost versus long-term cost; environmental impacts; and whether or not it fits into your specific business needs – can help ensure that you make an informed decision which will ultimately benefit both your budget and the environment.
How Much Does It Cost?
Renting a copier can be a great way to save money in the long term, as opposed to purchasing one upfront. However, it is important to know how much a renting copier would cost you before making this decision, as this will give you a better idea of what kind of budget you should set and whether or not you can afford the rental. Knowing the cost ahead of time can also help you make an informed decision about the type of machine that will best suit your needs. For example, if you need a high-end model with more features and capabilities than basic models offer, it may be more cost-effective to rent rather than purchase.
When researching renting costs for copiers, there are various factors to consider that go beyond just the initial cost. These include maintenance fees, additional fees for supplies such as toner cartridges and paper, and other associated costs like delivery charges or taxes. Furthermore, some companies may offer different payment plans that could potentially lower your overall costs down the line. When reviewing these options it is important to read through all of the terms in the contract thoroughly so that you do not get stuck with any hidden fees or conditions that were not anticipated when initially agreeing to rent.
What Advantages Do Copier Rentals Offer?
Knowing the advantages of renting a copier before going forward is critical in making the best decision for your business. There are several advantages to renting a copier that should be taken into consideration when making this important decision.
Renting a copier offers financial flexibility as you are not required to make an upfront purchase or long-term commitment.

You are able to pay on a monthly basis which can be ideal if you do not wish to invest too heavily in costly equipment or make long-term commitments for upkeep and servicing.

Renting a copier allows you to upgrade to more advanced models as needed without having to buy that model outright.

Since repairs may be covered by the rental agreement, you don't have to worry about unexpected costs associated with maintenance and repair needs.
Are There Disadvantages To Renting A Copier?
Renting a copier may be more expensive in the long run, as you're likely to pay more per page than if you purchased your own machine. Also, the cost of renting can add up quickly if you need to use the copier frequently. Additionally, depending on the terms of your rental agreement, you may not be allowed to upgrade or customize the copier's features. This could limit your ability to use the machine for specific tasks and increase costs by forcing you to rent more than one copier in order to accomplish all of your printing needs.
What Type Of Support And Service Maintenance Will I Get?
It is important to know the type of support and service maintenance you will get before renting any product or service, as this can be crucial in ensuring that you receive the best value for your money. Knowing what kind of assistance you are entitled to can give you more confidence when making a rental decision, so it's important to make sure you understand exactly what you are signing up for. If a service provider doesn't offer the type of support or maintenance that is necessary, it could lead to costly repairs or downtime.
Knowing the type of support and maintenance offered by your rental provider can help to ensure that any unexpected problems are quickly taken care of, giving you peace of mind and ensuring you get the most from your product.   Furthermore, understanding your provider's support structure can help you make a more informed decision about the type of product or service you need to rent.
So if you're in the market for a new copier, keep these questions in mind before making your purchase. And remember, Business World is here to help! We have a wide selection of machines to choose from, and our team would be more than happy to assist you in finding the perfect fit for your business needs. Give us a call today – we're standing by and ready to help!
Are You Looking for a Photocopier Near Concord, California?    
Office Machine Specialists has been servicing and selling office equipment since 1995. A family-run business that has dedicated our efforts to providing the best equipment options and after-sales service to our clients. Our goal is to ask the right questions and guide our customers to make smart decisions about new machine leases and purchases.  We were servicing copiers long before the internet was a viable resource, and have transitioned to the digital workflow environment of color printing, scanning, account control, and fleet management. With over 20 years in the industry, we have extensive experience with all the major brands and consider OMS to be a valuable resource to any organization. Contact us for all of your copier needs here!